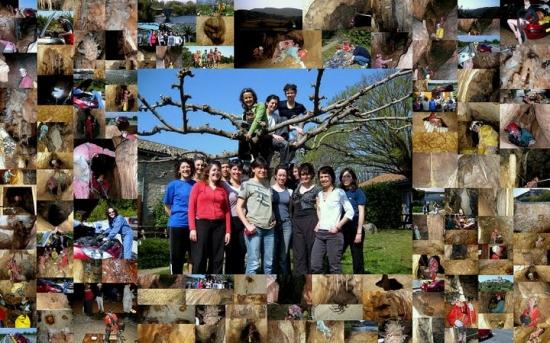 SpeleO féminin is the first international speleology gathering for women to date. It is organized in partnership with the Teaching department of the International Union of Speleology, as well as private companies, institutions, etc.
The idea has arisen from the discovery that, in different places in France and abroad, women organize events to practice speleology together. We have therefore concluded that an international gathering of female speleologists could bring us a lot, on a human level and to share about our practices.
This event will take place from April 3rd 2010 to April 5th 2010 (during Easter celebrations) in Ardèche, close by the Nature Reserve of Ardèche Gorges, globally known for its caves and prehistoric sites.
The meeting point is at Domaine de Chaussy (in Lagorce, nearby Ruoms and Vallon-Pont-d'Arc), where there are several accommodation options: hotel, mobile homes, camping area. As for meals, different restaurants (hotel, pizzeria) and shops are located in the area.
The check-in will take place from Friday, April 2nd 2010 in the hotel lobby.
ON THE AGENDA
Several equipped caves of different difficulty levels will be available in the area (Cèze Gorges in the department of Gard and Ardèche Gorges in the department of Ardèche) with some famous caves (Aven Saint-Marcel, Event de Foussoubie, Aven Grégoire, Grotte des Fées…) privileged to make easier the flows of teams over the duration of the meeting.
Conferences by renowned specialists about the Ardèche region

Overview of prehistory in Ardèche (Bernard Gély, Françoise Prud'Homme)

Natural and cultural heritage in Ardèche (Olivier Peyronel)

The bears of Chauvet cave (Michel Philippe)

Introduction to biospeleology (Céline Colson)

Geology in Ardèche (Cécile Souleau)
These conferences will be completed with visits of sites frequented by prehistoric people and animals, such as the cave bear, or specific fauna...
Round tables with presentations of different events organized for female speleologists: excursions, innovating equipments, techniques…

Gala night

Projections of movies, photography contest…
Website: Spéléo-O-Femnin